Adhesive for direct skin contact
When developing an adhesive that comes into direct contact with the skin, there are always many factors to consider – ones which also need to be coordinated with each other. For example, if a medical device is developed that is affixed to sensitive skin – as can be the case with newborn babies or older people – there are further special requirements when it comes to the adhesive. On one hand, the developed adhesive must be strong enough to remain attached to the skin during the required application period. On the other hand, it must also be possible to remove the medical device painlessly and without damaging the skin after it has been worn.
Properties of the skin and what to pay attention to
Let's first take a look at the substrate onto which the adhesive is attached in more detail.
Human skin varies from person to person – you will never find the same skin twice.
Factors that affect the skin:
age

gender

diet

perspiration levels

geographical factors

person's general health
The outer layer of skin is known as the epidermis. This forms the outer layer of the body and acts as a protective barrier against microorganisms, heat and injuries. The skin also regulates body temperature, stores water and fat, and is responsible for the production of vitamin D in combination with sunlight. The epidermis is made up primarily of flat, squamous cells. Sweat and sebum pass through the pores onto the skin surface. This process varies in intensity from one body region to the other and has an effect on the level of adhesion between the adhesive and skin. Up to two liters of water can be lost per day in transpiration through the skin.
It's clear that human skin is a very demanding substrate. In order to develop an adhesive that won't damage sensitive skin when removed, artimelt broke new ground. With artimeltlowpeel, we have developed a product line that has the right properties for ensuring that something as simple as removing a plaster is painless. Patients suffering from chronic wounds will also benefit in future from lower stress on the skin caused by regular dressing changes. With artimeltlowpeel, intact skin is not damaged and no skin trauma is caused.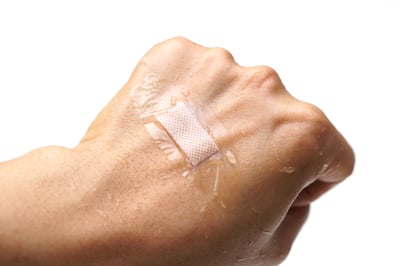 Typical applications for artimeltlowpeel
catheter fixations

eye plasters for children

applications in the sacral area, treating pressure sores or for fixing dressings in place when treating chronic wounds

suitable for use with wearables
Due to the many applications, you have probably already guessed that this spectrum cannot be covered by a single adhesive type. artimeltlowpeel consists of a wide variety of products with different properties. The term "low peel" has not yet been uniformly defined, which is why artimelt has taken the step of making our own classification. Adhesives that are suitable for the applications described above have a peel value of < 1 N/25 mm and a loop tack of < 5 N/25 mm. These values are measured against steel and cannot be compared to human skin. Therefore, in order to ensure that the individual adhesives can be compared, we have thus used steel as a reproducible substrate when gathering the technical data. As skin differs from person to person, you would get different values each time in this case.
Depending on the application and patient group, it also makes sense to test an adhesive with higher peel values. However, a peel value of 10 N/25 mm should not be exceeded, otherwise the desired low-peel effect is lost despite the adhesive properties.
How is this low-peel effect achieved?
The adhesive formulation is one aspect, of course. We use a new thermoplastic acrylate as base material. One advantage of this raw material is that we are then not dependent on UV radiation, which is the case for UV-curing adhesives. Another advantage of this thermoplastic acrylate is that it is breathable. This means that it is also suitable for applications where a plaster or wearable should be applied for a longer period. This is because maceration – the softening and breaking down of skin resulting from prolonged exposure to moisture – does not take place.
Application weight
The second key aspect is the application weight. A coat weight between 100 and 200 grams per square meter is recommended. Thanks to this high coat weight, the effect between cohesion of the adhesive and adhesion between the adhesive and skin becomes apparent. Thanks to the interplay between cohesion and adhesion, a product is created that has this low-peel effect and can thus also be gently removed from the skin.
Antibacterial protection
In order to further expand the entire range, we are already planning the next steps. In addition to gentle removal, the artimeltlowpeel line should also be equipped with other properties such as antibacterial protection.
If you require more information on artimeltlowpeel, our adhesive experts would be happy to help.