Strong adhesive label
We're sure you're familiar with the situation – a customer has requested a strongly adhesive label that is affixed to a cardboard box and is either destroyed or damages the underlying layer when removed. VOID labeling is not required in this case. With this in mind, you look for a self-adhesive laminate with the strongest adhesive available and are convinced that the customer will be happy with the results. The customer tests your label and discovers that the label – despite its strong adhesive qualities – can be removed without major difficulty. But why?
However an easy removal is possible - why?
Many cardboard boxes are not only used for packaging and protecting the product inside – such as a box of rice or cornflakes, for example. Instead, the packaging has another role to play, namely to look good, make a high-quality impression and entice the consumer to buy it.
This is extremely important, particularly for high-quality products such as perfumes or expensive cosmetics. If you take a look when shopping, you will see that the more expensive the product, the higher quality the packaging.
Paint at the packaging
In order for the packaging to appeal to the consumer, it has complex printing and also embossing in some cases. In addition to all the different paints used, the packaging is also given a gloss or matt coating. The role of this coating is to protect the paints from mechanical influences (such as scratches), not to mention repelling dust and dirt and preventing fingerprints. After all, who wants to buy something that is covered in fingerprints?
In order for the coating to meet the aforementioned requirements, it needs special additives. One of these components is often silicone. Silicone has a low surface tension and is thus extremely repellent against grease, dirt and dust. However, silicone is also extremely repellent against adhesives as well! This means that siliconized liners are also used when manufacturing labels. Put simply, adhesives do not stick well on surfaces that contain silicone – the bond is not strong enough and the label can be removed relatively easily.
Adhesive effect increases over time
We have found a solution to this problem in artimeltsurface, which is processed and coated just like a normal hot-melt adhesive. Labels with artimeltsurface are applied in the same way as conventional labels. Now comes the magic – the adhesive has been designed in such a way that the bond with a surface containing silicone becomes stronger and stronger over time. As demonstrated in laboratory tests on such surfaces, the adhesive strength constantly increases. After just a few days, it is then no longer possible to remove the label from the surface without leaving traces. Either the label tears or the surface of the packaging is destroyed.
We received a sample packaging from one of our customers with the task of finding a suitable adhesive – one that allows RF labels to be affixed so that they cannot be removed without damaging the surface (RF labels are used for the electronic safeguarding of goods using radio frequencies).
artimeltsurface was the perfect solution here. The RF label was destroyed completely when it was removed from the packaging. It was only possible to remove it from the packaging in small pieces. Moreover, the coating was also torn from the box at the point where the label was attached. It was thus clear that the box had been manipulated.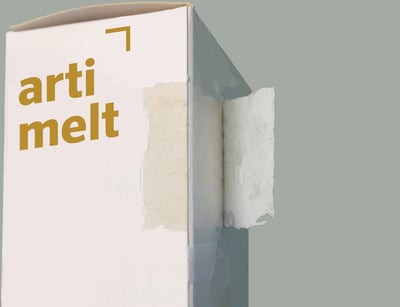 Tamper-proof sealing
The avoidance of manipulation of this kind will be of critical importance to all pharmaceutical manufacturers from February 9, 2019, when the EU directive for preventing falsified medicinal products (2011/62/EU) comes into force. This directive helps manufacturers, wholesalers and logistics providers in the pharmaceuticals industry in their fight against counterfeit drugs and thus also increases patient safety. Among other features, the packaging has to be protected against falsification in addition to clear identification via barcode. In other words, it must be possible for the consumer to determine whether the packaging has been sealed by the manufacturer at the factory or has already been opened.
This can be ensured with a closure label. However, packaging of this kind is also often treated with a protective coating containing silicone, which means a sufficient bond cannot be achieved using standard adhesives. The label can then be removed undetected, the contents replaced and the packaging resealed.
However, if artimeltsurface is used, the label or box is destroyed in most cases. This thus meets the EU directive for preventing falsified medicinal products in terms of tamper-proof sealing.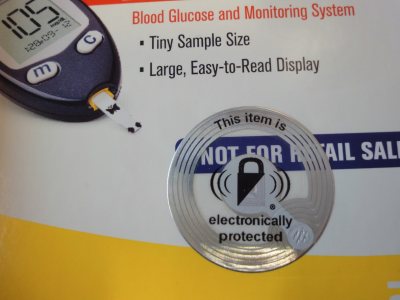 Adhesive bonds also under water
artimeltsurface can also be used for adhesive bonds under water. Examinations have shown that adhesive tapes with artimeltsurface achieve good adhesion on smooth surfaces underwater. For example, you can then seal cracks in your swimming pool from inside in summer without having to drain the water. The only thing you may require in this case is diving gear!

If you require more information on artimeltsurface, our adhesive experts would be happy to help.