Plasters are found in virtually every home first-aid kit. They are available in all shapes and colors and in many different materials, such as fabrics or synthetics. Some plasters have a strong bond and some can be removed easily, while others have additional functions such as antibacterial properties, padding, absorption of wound secretions or for administering medication. What is clear is that the demands on modern plasters have increased. Below, you can find a summary of the most important requirements.
Skin
All of these different plasters are affixed to the skin, which is the largest organ in the human body. The skin is a very special surface when it comes to attaching things to it. On an adult human, the total surface area is around 1.7 m2 and total weight between 10 and 14 kg. It consists of several different layers, with the epidermis the outermost layer. The skin has a range of different functions, including the exchange of substances. In other words, substances are both absorbed and emitted to different degrees through the body surface. A typical example here is perspiration during sport. The sweat glands produce sweat in order to prevent the body from overheating. The skin is also a very individual organ and behaves differently depending on the age of the person, the climate in which they live and their habits. It can thus be the case that an adhesive for a plaster works perfectly in Europe, but the bond is too strong in Asia and leads to skin irritation when the plaster is removed.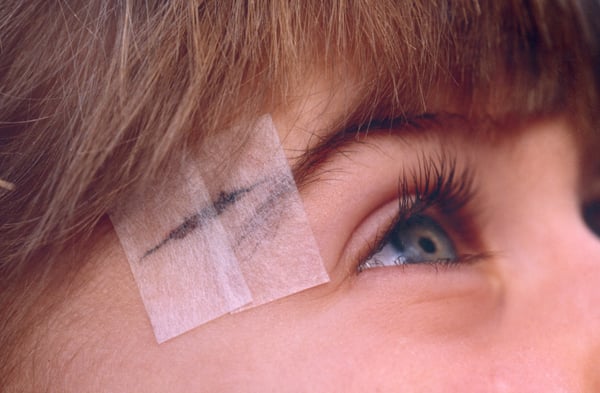 Substrate
The substrate used also plays a significant role in the overall performance of a plaster. Depending on the application, the substrate can be up to 50% responsible for whether the end product ultimately has the desired properties or not. As a result, we recommend carrying out a screening process for those substrates that come into question early on in the development phase. Trial coatings at the laboratory can be a good indicator as to whether the adhesive strength is sufficient or whether the adhesive and substrate are compatible with one another.
Adhesion
Adhesion varies greatly depending on the intended application and target group. For example, surgical drapes that are affixed to the patient or operating table require a different product compared to eye plasters for children. The application weight and coating pattern are other variables that have an effect on adhesion. In most applications, an application weight of between 25 and 40 gsm is sufficient. Full-surface coating is also made in the majority of cases. This is not a significant problem in short-term applications. As before, rubber-based adhesives are most commonly used. These have no moisture vapor permeability, which can lead to maceration of the skin. When using rubber-based adhesives, this can be minimized by applying the adhesive freely, for example in dots or strips.
UV-curing adhesive systems
A more elegant method is to use UV-curing adhesives instead. These systems have a significantly higher moisture vapor permeability, meaning the skin function is not restricted. While human skin has a moisture vapor permeability of around 200 to 400 g/m2/day, artimelt UV-curing adhesives have a moisture vapor transmission rate (MVTR) of 800 to 1,200 g/m2/day. These adhesive types can thus also be used for products in long-term applications. UV-curing adhesives also have other advantages. For example, they have better shear strength compared to traditional rubber products. This means that the products are also more suitable for applications where the patient is active. The water resistance is also higher, meaning the patient can take showers without the plaster losing its adhesive bond and falling off. The high MVTR also helps in this regard. Sweat can be transported away from the body and does not collect between the adhesive and skin, which also leads to a loss of adhesion.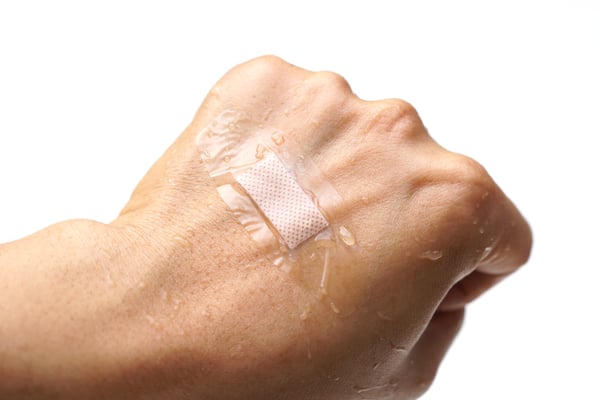 Conclusion
To conclude, one can say that it is an advantage to know both the exact application and the main target group. Both of these factors provide important advance information on which materials should be used. This applies both to the substrate and the selection of the adhesive.
The artimelt team has many years of experience in this field and would be happy to help you find a suitable solution. Thanks to our comprehensive product portfolio and experience with the most diverse substrates, we can work together to find the right combination in order to meet all your product demands.